Hosting Services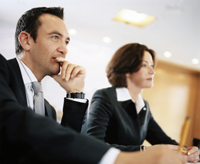 Andrews Technology offers companies looking to have the features and power of an enterprise system without the need to purchase servers and hire a staff of IT personnel needed to maintain their system. By having your system hosted by Andrews Technology, you can ensure that your software will always be up to date, protected from data loss, and accessible from any internet location around the world.
Andrews Technology offers multiple high speed data centers throughout the country. If a location becomes unavailable, a backup location will be up and running within moments. This minimizes system downtime.
Frequently Asked Questions
How secure is my data?
Andrews Technology protects your data by using SSL encryption between your web browser and the server. This layer of security prevents others from intercepting your web session and reading your employee's personal data.
How is my data protected from a disaster?
Each server has a Raid 5 configuration with tape backup. Each night backups are taken from their main data center and transferred to a second data center to prevent data loss due to hardware failure or fire. Each data center has spare servers that can be enabled if at anytime their main server fails to avoid any downtime.
When can I access the NOVAtime system?
The NOVAtime system is available 24 hours a day, 7 days a week. If there is a need to interrupt service of the NOVAtime system, our technicians will contact your organization to notify you of any schedule maintenance or update.
How often is the system updated?
New features and improvements are constantly added to give value to your NOVAtime Time and Attendance System. Updates are generally introduced quarterly; with new custom additions added at anytime.
How do I access the NOVAtime System?
Any computer with a valid internet connection and a web browser (Firefox, Google Chrome, Internet Explorer/Microsoft Edge, Opera, and Safari) can access the NOVAtime software. Supervisors or employees can login to their respective versions (Employee Web Services for the employees, Supervisor Web Services for the supervisors).